How Can Branding Communicate Trustworthiness to Consumers?
BY: ANTONIO BUCHANAN  |  OCT 6, 2021 – 6 MIN READ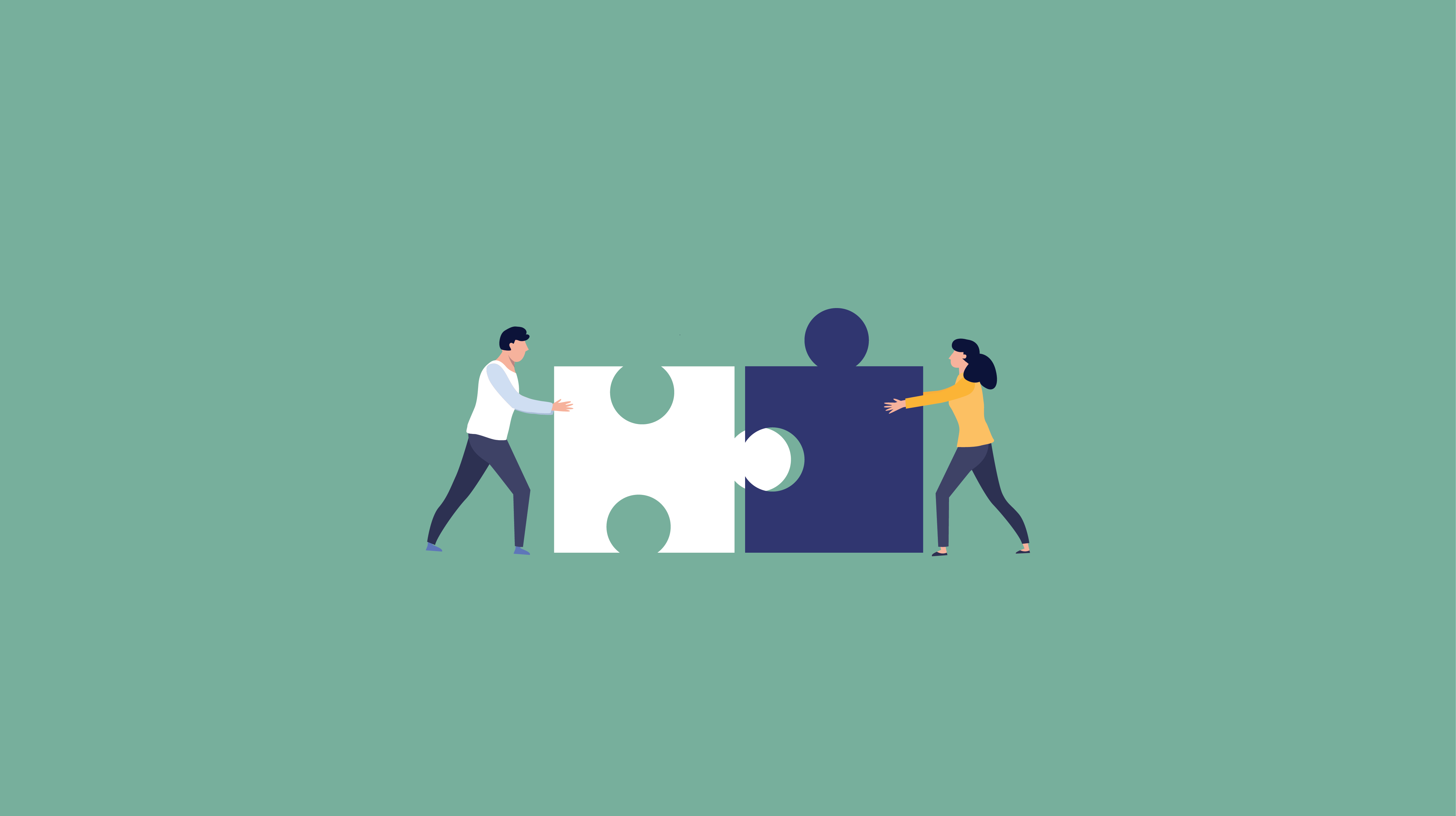 Key Takeaways (6-minute read):
Trust doesn't come from branding alone, but it doesn't hurt.

The financial services industry could be a key case study for building consumer trust.

Take cues from past industry leaders while looking to the future.
In a world where people are more connected than ever, thanks to the internet, social media, and a myriad of ways to communicate both with each other and with businesses, it's easy for a brand to become lost in the sea of competition. Startups and longstanding brands alike must continually adapt and evolve in the digital marketing climate to stay relevant and successful. But whether you're a brand-new digital company intent on changing the world through innovation or a decades-old establishment seeking to update best practices for the digital consumer, one thing will set you apart more than any other: trustworthiness.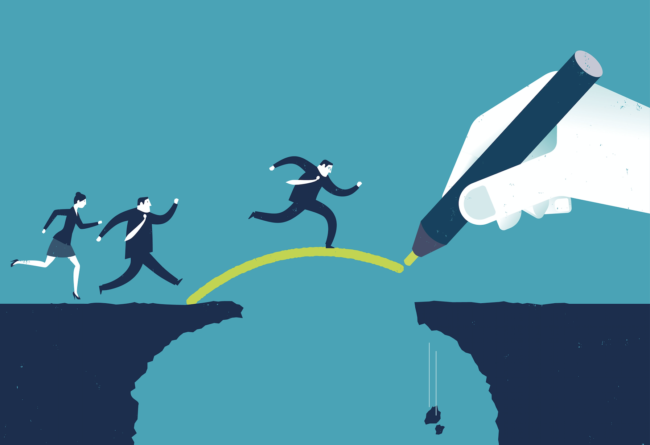 Particularly among online services and financial institutions, trust is a crucial element for consumers who are shopping brands. The events of the past year have brought trust to the forefront of most consumer desires when it comes to the brands and products they choose. They want to know they can trust companies with their money, their data, their values, their commitment to consumer experiences, and their health and safety in industries to which that applies. According to the most recent State of the Connected Customer survey conducted by Salesforce, 71% of consumers say they pay more attention to companies' values than they did a year ago, while 62% admit they have stopped buying from companies whose values didn't align with theirs.
When it comes to branding for financial services, building consumer trust is everything. The same Salesforce consumer survey from this year indicated that out of 12 top industries, financial services fell in the bottom three in six out of seven areas of important trust-building brand values. In other words, consumers felt that financial institutions were lacking in consumer centricity, product quality, service/support quality, social responsibility, environmental responsibility, and its response to the crises of 2020.
How can branding help the financial industry gain back consumer trust?
Design a Great First Impression.
Looking good never hurt anyone. A great brand strategy begins with good design and creative input that will stand out among the competition, both new and old. Logo design and graphics are always important but don't sleep on the critical role of a well-designed, user-friendly website and mobile application. This is likely the first place a potential customer will look for information on your brand, so it had better look nice, be up to date with the latest news, be easy to navigate, and be responsive for use across devices with secure data encryption. Especially among millennial and Gen Z consumers, these elements are considered nonnegotiables.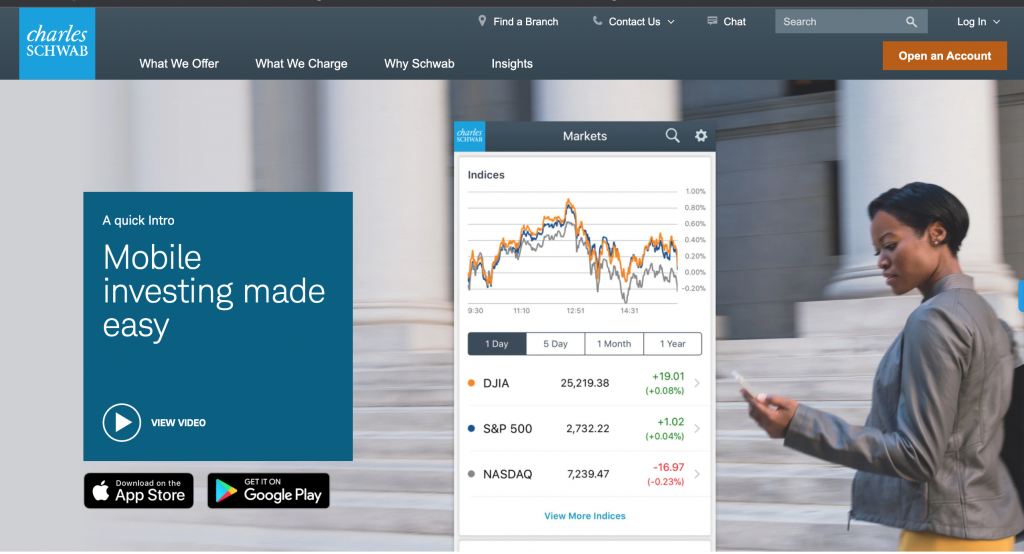 Charles Schwab is one of the leading investment services providers in the US, around for the past 50 years and commanding a presence of refinery, knowledge, and luxury through its look and feel. The signature blue and classic serif logo exudes expertise and history—two things many, if not most, consumers are looking for in a financial partner. The brand's website is one of the most visually appealing in its industry, putting a huge focus on customer centricity in everything from its imagery to its tagline, Own Your Tomorrow. Despite being a more established brand, Schwab has also kept up with the digital marketing age well. Its mobile app is well designed, has clean aesthetics, and is easy to use. From a quantitative research standpoint, it's also offering consumers "request a callback" and appointment booking options from within its advisor directories. This not only provides quality, convenient services to clients but also allows a new data-collection checkpoint from new consumers who request these services online. Form and function unite!
Create an Authentic, Transparent Consumer Experience.
Keep it simple. When it comes to their money, people just want to know what's going on. They want information in easily digestible forms that are easy to find from their bank, lender, investment partner, or other financial platforms. This is key to not only practicing consumer centricity but also enhances the quality of products and services and can help communicate your brand's values, including corporate social responsibility and environmental responsibility. Put those things in your mission statement. Create a page on your website or app for laying out your goals to help others. Dedicate social media and email marketing to letting your customers know you're about more than just the money. When you tell them what the people who run your business are passionate about, you put a human soul into your brand that consumers can relate to and respond to.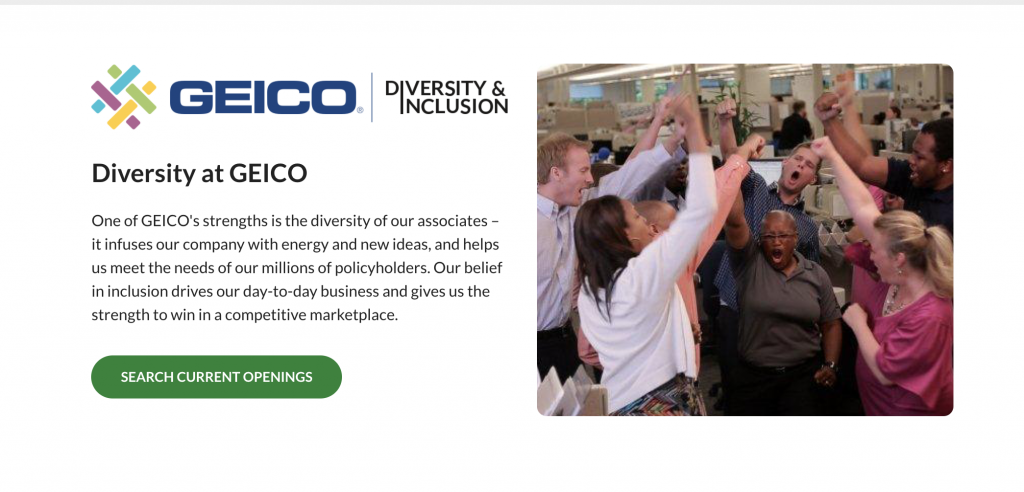 GEICO does a great job of keeping its branding neat, simple, and to the point while engaging and entertaining customers. Who doesn't love the GEICO commercials? The brand is the top financial services provider on YouTube, with over a million views on most of its videos, further proving it has taken the insurance marketing game digitally and is directing content where audiences will see it and respond. GEICO's website isn't the the most attractive of the bunch, but its information is easy to find, and transparency is present in sections such as the In the Community, Diversity & Inclusion, and Corporate Information pages. When it comes to content marketing and consumer recognition, the gecko certainly ranks as royalty.
Draw Inspiration from the Past, Then Innovate for the Future.
There's a reason financial institutions like Citibank, Goldman Sachs, Chase, Wells Fargo, and more have thrived for decades or, in some cases, over a century. They've become synonymous with evolution. Mergers, buyouts, adding and changing services—all demonstrate that to maintain success, one must be nimble. The world learned this lesson over again in 2020 as the pandemic forced many to pivot, lest they become a more depressing statistic. A strong brand foundation helps when considering longevity; the institutions mentioned above have maintained that brand equity throughout the decades, holding themselves to high standards to ensure consumer loyalty and build upon it.
Newer brands should consider how their brand identity will hold up over time; don't jump on a trendy look or name if it might deteriorate in a year or even five. Lay a strong foundation, create the pillars for success through identity, strategy, responsibility, communication, and, above all, a dedication to the consumer. Then take those values and propel them into the future with digital marketing, consumer research, technology, and innovations that will show your target audience how you're different from the competition.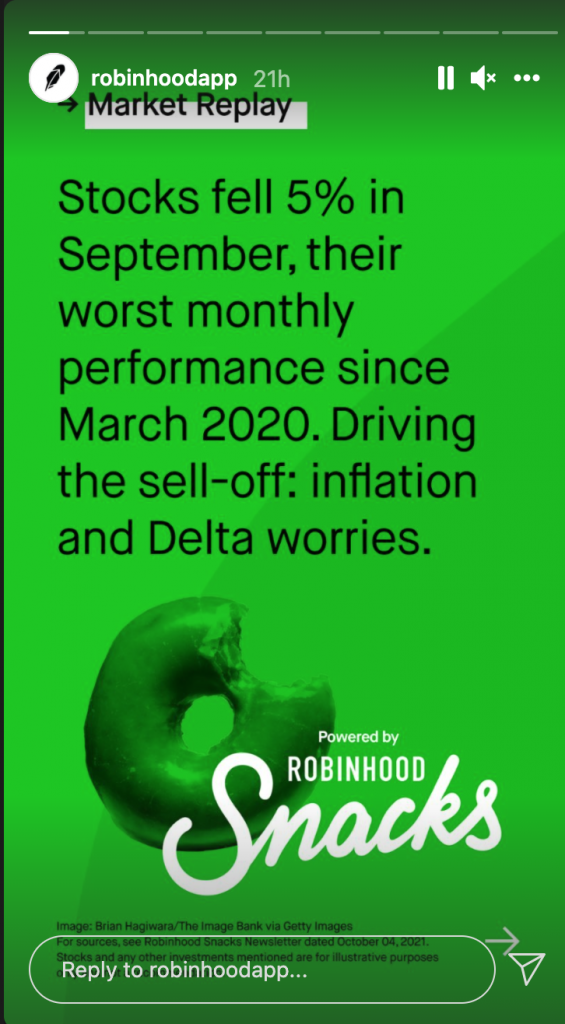 Practicing the tried-and-true consumer-driven business model while also embracing the marketing trends of today's digital age, Robinhood is a relative newcomer to the financial industry that has certainly created a name for itself in the past couple of years by offering commission-free stock trading. Its millennial-focused investment services are marketed mostly on social media, taking communications directly to its target audience through Instagram, Snapchat, a blog, and more. The Robinhood Snacks video series offers snippets of market information daily, while the brand's Instagram page offers eye-catching designed posts, testimonials, educational videos and infographics, relevant news, and consumer stories. Its 186k Instagram followers and an average four-star rating from over 3.8 million users on Apple (where it's ranked the #15 finance app) are strong indicators this digital disruptor is here to stay.
These tips go for any industry. Looking at a traditional, sometimes outdated sector like financial services—struggling with consumer satisfaction and trying to keep up with modern innovations—provides a good case study opportunity for brands wishing to build and keep consumer trust. The digital players can observe cornerstone brands for core values that will improve the customer journey, while the established players should take cues from innovative newcomers.
The brand futurists and creative studio at Antonio & Paris are equipped and excited to help both types of businesses build consumer trust through a new brand strategy, so contact our team today to learn more about our full suite of services.
About A&P
A&P, a brand agency, excels in finding innovative ways for clients to provide exceptional experiences to their customers. Their work includes consumer insight, brand innovation, creative development, mobile and technology solutions for global brands such as AT&T, Mini USA, DIRECTV, Newell Rubbermaid, Tenet Healthcare, and Barco Escape. For more information about A&P, visit them on Facebook, Twitter or antonioandparis.com.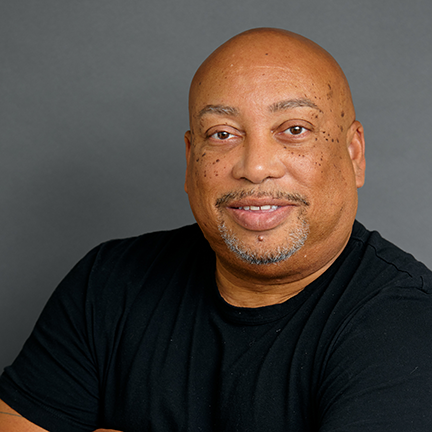 WRITTEN BY
Antonio Buchanan
Short Bio — In 1999 after leading the charge on worldwide accounts, such as American Express, IBM, & Microsoft, at traditional global agencies in large agency networks, Antonio Patric Buchanan set out on his own to create a new agency model with his agency, bang!zoom. Within a couple of years, the agency was purchased by the Canadian holding company, MDC. In 2004, he launched what is now the global brand innovation and design firm Antonio & Paris. He counsels the likes of AT&T, MINI USA, Barco, Paramount Pictures, The Franklin Institute, ThermoFisher and other global brands. Additionally, he is on the Executive Board of Fast Company and First Serve, A United States Tennis Association Non-Profit.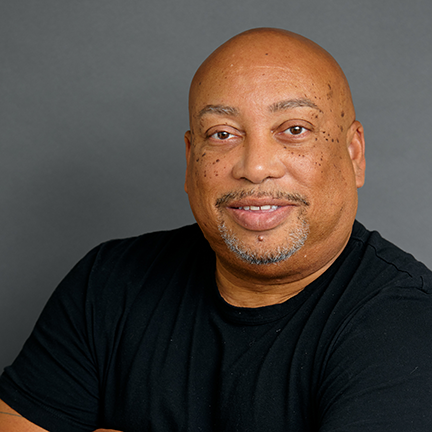 WRITTEN BY
Antonio Buchanan
Short Bio — In 1999 after leading the charge on accounts, such as American Express, IBM, & Microsoft, at traditional global agencies in large agency networks, Antonio Patric Buchanan set out on his own to create a new agency model with his agency, bang!zoom. Within a couple of years, the agency was purchased by the Canadian holding company, MDC. In 2004 he launched Pure Moxie, which was rebranded in 2017 to what is now Antonio & Paris.